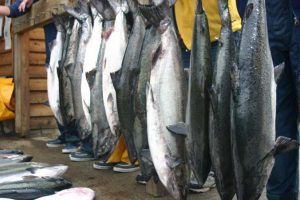 Port Alice sport fishing. This area features some of the best steelhead fishing on Vancouver Island, which are famous for their size and battle. Besides steelhead, there are salmon, halibut, cod, and red snapper. Local guides can show you the best spots where you're almost guaranteed to catch your daily limit. Some guides have decades of experience and know where all the secret fishing holes are. Freshwater trout fishing available in Alice Lake and Victoria Lake, both of which are served by boat launches.
Port Alice real estate listings for fishing lodges, cabins, cottages, and condos
Fishing regulations
For sport fishing regulations in and around Port Alice, check the latest regulations for Area 27 (Quatsino, Lawn Point, Topknot Point) and Area 127, 126 and 125 (offshore from Winter Harbour) at the  BC Tidal Waters Fishing Regulations site.
Local fishing guides

J&C Pacific Water & Land Adventures
250-230-8933
Knight Inlet Fishing Lodge
250-337-1953
info@grizzlytours.com
Rumble Beach Fishing Charters
250-284-6204 / 250-209-2779